It is not unusual for personalities to appear on the covers of the most popular magazines; but it is a bit more unusual for the same person to appear in several international editions simultaneously.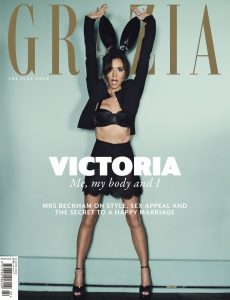 However, this month, Victoria Beckham is the star of 14 international editions of Grazia magazine as part of an exclusive global collaboration. The businesswoman appears on the cover of Grazia UK's 'Luxe Issue' as well as 13 of its international editions.

It's a big move for Beckham, both the personality and the businesswoman, and is part of the pop star turned fashion entrepreneur's marketing campaign for the launch of her VB Body collection, her new basic daywear line combining bodycon and bodycon.
The UK edition includes a cover for newsstand sales and a different photo of her for subscribers, and is available from May 17. The magazine itself includes an exclusive interview with Beckham, plus a photo shoot built around the launch of VB Body. The content will be supported by a social media campaign that includes exclusive behind-the-scenes images from the shoot and an interview with the businesswoman.
Grazia's worldwide covers featuring Victoria Beckham also include its Australia, Bulgaria, China, Croatia, the Emirates, Germany, India, Italy, Latin America, Mexico, Serbia, Spain and the United States editions. In all editions Beckham is featured wearing VB Body products.
The VB Body collection is a «permanent capsule» that sits alongside Victoria Beckham's seasonal, fashion-focused ready-to-wear collections. Sizes range from UK sizes 6 to 18, with colors to suit a wide range of skin tones and prices from £90.
«There aren't many stars that capture the world's attention. But I'm delighted to have been able to photograph and interview one of the UK's most fascinating women, Victoria Beckham, for our Luxe Issue, and to have collaborated with 14 international editions of Grazia, which also feature the shoot on their covers. We know that Grazia UK's audience has long been obsessed with following Victoria's journey, so they will enjoy seeing exclusive images of the designer as she unveils her new VB Body line and hearing her talk about family, fame and style,» noted Hattie Brett, editor of Grazia UK.