The luxury and fashion industry has been shaken by a series of crises for more than two years. Various economic but also structural factors, with the need to move towards sustainable development, are forcing companies to review the functioning of their supply chain, which has become the new target in the face of war. To control this ecosystem, they are increasingly turning to digital and new technologies.
Today, the sector is facing a cascade of problems and turbulences that make the system much more unstable, especially in the early stages of the chain Just as the market was moving towards a post-pandemic recovery, supply difficulties arose. The explosion in demand, after two years of continuous decline that had slowed the supply chain considerably, led to a shortage of raw materials.

The situation was exacerbated by massive confinements in China, linked to an increase in Covid cases, which blocked part of the production and the port of Shanghai, slowing down the transport of goods.
This was compounded by inflation and rising energy prices, as well as the war in Ukraine, which exacerbated market tensions and energy supply difficulties. All of these elements have produced what some countries are calling «a perfect storm,» which is calling into question the current fashion supply model and its just-in-time logic in logistics.
«This model is being reexamined and we are returning to what was once considered obsolete, that is, the ability to anticipate as much as possible the needs of the market by ordering materials well in advance. The sector is even thinking about the possible repatriation of part of the production chain to Italy and Europe,» said Claudio Marenzi, CEO of Herno, a company specializing in long-sleeved pieces, and president of show organizer Pitti Immagine.
Claudio Marenzi did not wait for the crisis to change his approach to production. An eco-responsible man ahead of his time, a few years ago he set his company on the path of sustainable development, relying on technological innovation. Specifically, in 2020 he created the start-up BeSight with Andrea Ruscica, from the high-tech consultancy Altea Federation, to offer technological solutions to fashion SMEs. Like the shoe brand Panchic, launched in 2010 by Leonardo Dal Bello, which BeSight helped with the traceability aspect.
«By inserting an RFID tag in our shoes during the production phase, we can manage all logistical movements and we are more efficient. We have survived the pandemic thanks to our production chain,» said Leonardo Dal Bello during the e-P Summit, the forum dedicated to fashion and technology organized in Florence in early May by Pitti Immagine.
Herno has implemented a similar system. «RFID allows us to have a total view. The challenge is to go further down the supply chain, tracking the movement of raw materials as far as possible. The company needs to know exactly when the product will reach the market in order to coordinate the distribution and launch campaign,» Claudio Marenzi said.
«Inaccuracy is no longer tolerated in the digital age. When the customer is looking for the product, he has to find it. All this requires enormous programming and an incredible economic trade-off between engineering, raw material costs and increasingly complex organizations,» he continued.
«Costs have risen so much that the threshold for the minimum financial commitment, needed just to stay in business, is getting higher and higher, making it prohibitive for even the smallest brands,» the entrepreneur highlighted.
«Paradoxically, this year I have felt much more difficulty than in the previous two years. With the war in Ukraine, I had to suspend many orders in Russia, one of my main markets. Although digital technology has helped us a lot, especially to sell on the other side of the world without having to move, the sales campaign has nevertheless been exhausting, because we have had to be attentive to all points,» said Andrea Pilato Barrara, founder and owner of the small down jacket brand Bacon, distributed, among others, by Galeries Lafayette.
This complexity, which has become the «new normal», has led several companies to accelerate their digital transformation in industrial processes. This is the case for Loro Piana, which has partnered with the SedApta group, which specializes in software solutions to optimize supply chains.
«We were still doing very manual planning with Excel. We were looking for software that would allow us to align all the company's functions to manage the different commercial demands, stock management, etc., giving us the possibility to analyze bottlenecks,» explained Michele Taranzano, head of planning for the luxury goods division of the LVMH group's high-end textile house.
«As we produce everything in Italy, we have production capacity limits, especially because our raw materials are very scarce. Hence the importance of having a tool that allows us to know the status of the processes…,» he explained.
Loro Piana involved its various departments, as well as its internal and external suppliers, in this technological transition. «This has given us great flexibility. We can now play with different scenarios to solve requests through a defined capacity plan in terms of suppliers, raw materials and forms. This means that we can respond to specific requests in half a day, whereas before it took us several days to get an idea and confirm an order,» noted Michele Taranzano.
Production planning and purchasing policy and management are now carried out with the same tool at Loro Piana. By integrating subcontractors, the company no longer has to spend hours on the phone explaining plans to them.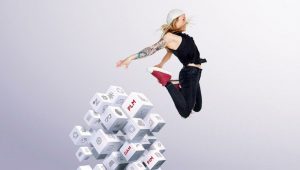 Several high-tech companies offer specific and increasingly sophisticated solutions for fashion brands. Pinko, for example, like other brands, has partnered with Lectra, adopting its Kubix Link cloud platform, which, thanks to its intelligent and intuitive functionalities, helps it to optimize its production. The system combines PLM (Product Lifecycle Management), PIM (Product Information Management) and DAM (Digital Asset Management) functions.
«This has allowed us to clarify tasks and urgencies, with better control and improvement of production processes,» commented Marco Ruffa, digital transformation manager for the Italian brand.
«For example, we are distributing more and more in the main international markets and we are increasingly in dialogue with e-tailers, who are asking us for customization in terms of languages, presentations and product information. This tool allows us to gather all the information and publish it on the various websites,» the director emphasized.
Pinko has also been using Retviews, Lectra's data analyst, to manage its price positioning in the Russian market for the past three months. «In just a few months there have been big price changes. Retviews has enabled us to monitor the prices charged by e-tailers and make very reactive analyses to maintain our level of competitiveness,» he concluded.