Pucci has unveiled the campaign for the first collection of its new creative director Camille Miceli.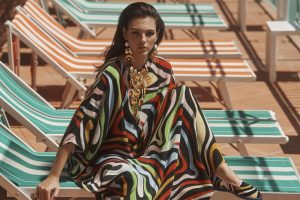 The French-Italian designer and «It Gal» unveiled her first creations on Capri in the first week of May, where she was applauded for her bold use of Pucci's bravura prints, nimble editing of accessories and witty sense of mise-en-scène. Revealed over several days on the historic Mediterranean island to a select group of editors and influencers, the unveiling featured yoga classes, sunny afternoons on the beach, cliff-side cocktails and dinners as lucky guests toured the limestone and sandstone island, which has been a popular seaside resort since ancient Roman times.

It's no surprise that photographer Lachlan Bailey portrayed the new campaign during the collection's launch on Capri. The island has always been central to Pucci's DNA. Although he was born in Florence, Pucci has always referenced sunny palatial resorts, sporty beauty and the Italian concept of «far niente».
This new campaign stars Italian supermodel Vittoria Ceretti, dressed in elegant pieces from Camille Miceli's debut collection, titled La Grotta Azzurra.
Known for his cinematic style and flatteringly lush lighting, Australian-born Bailey photographed Ceretti on Capri. As with the presentation, whose standout image was a group of girls in striped beach chairs, the campaign features Ceretti lounging on sun loungers in a dark, psychedelic beach djellaba, adorned with gold diva earrings and a fish-shaped necklace.
The model posed in front of the island's most famous rock formations, the two-layered farallones, dressed in a kaftan print top adorned with naive fish.
Clad in the first «drop» of the collection, Ceretti walks the island, experiencing the summery sense of indulgence that is la Dolce Vita. Having Emmanuelle Alt, the former editor-in-chief of Vogue France, as her stylist, Ceretti poses in front of street vendors while enjoying a vanilla cone or an iced lemon drink. Miceli's choice of Marmo or Pesci prints extends to scuba sandals and beach backgammon sets.
Other garments include a combined or coordinated selection of dresses, tops, pants, rolled derby hats and, of course, knee-length capri pants, expressing the playful mood of effortless elegance.
Tailored in pants and vibrant colors, the collection also fits the brand's new «see now, buy now» model: the first installment is now available in stores and online.