JON SECADA
CELEBRITY FRONT COVER APRIL 2022
jacket GOOD FIGHT
shirt GOOD FIGHT
pants PAISLEY GRAY
hat KANGOL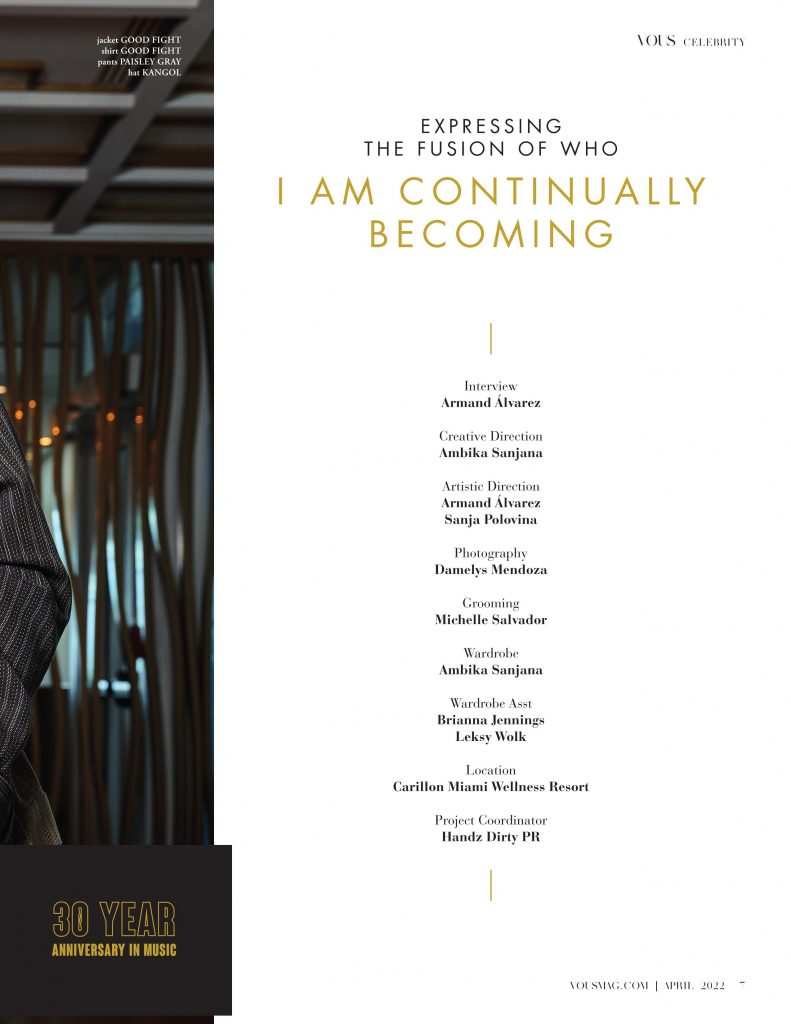 suit GOOD FIGHT
shirt KID SUPER
shoes CLARK
hat GLADYS
matching set LOST DAZE
shoes CLARK
suit PAISLEY GRAY
shirt BUD BEVRA
shoes CONVERSE
sunglasses RAYBAN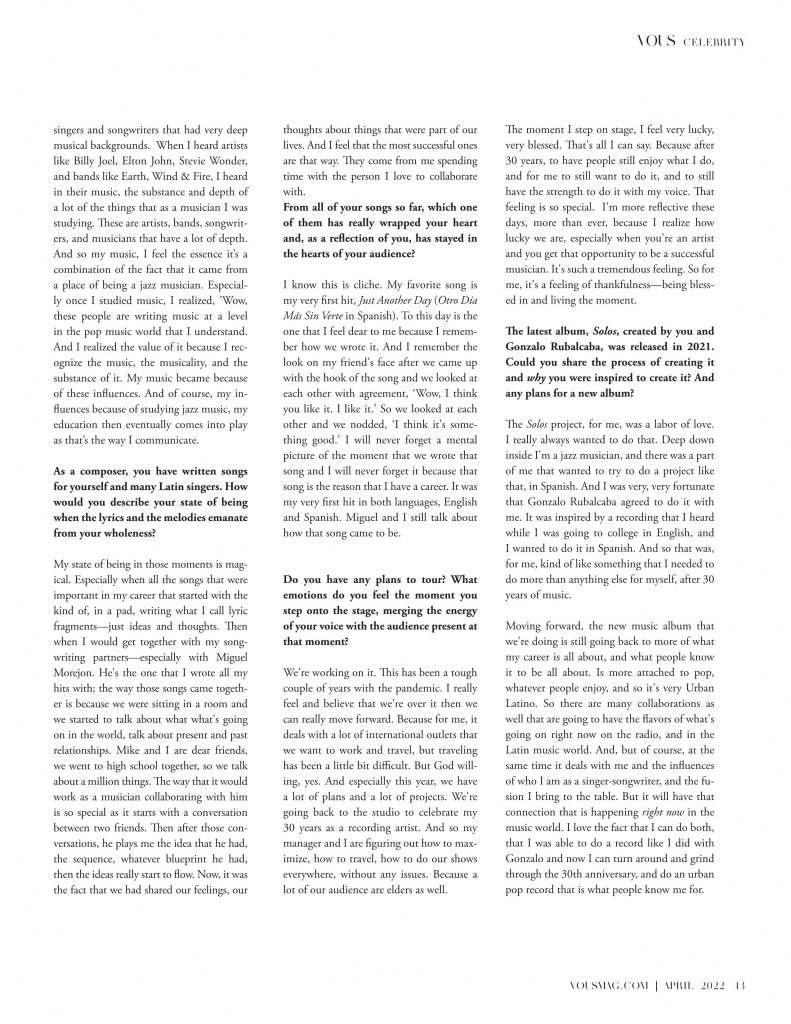 suit PAISLEY GRAY
shirt ZARA
shoes MARCELL VONBERLIN
Get to know JON SECADA
By Damelys Mendoza
Our individual creative juices flow in so many different ways and directions. Our unique vantage point, comprised of an accumulation of experiences, will always resonate with others, especially when shared with authenticity. Artist Jon Secada is celebrating 30 years of bringing joy to the world through his music, a soulful Latin-infused pop. In describing his identity as a multifaceted human, Secada says, "I've been in the music business for a very long time. Professionally, when I look at myself in the mirror, I'm a musician first. Then I'm a songwriter. And then I'm a recording artist. Personally, I'm a husband and a father. And so these are two important worlds in my life. But in my heart, with time, I feel that who I am as a family person is number one. And then my career is slowly becoming second. But I'm perfectly okay with that. Being a father, and being a family person eventually became a priority to me. And of course, my career is still very important to me—it's the way I make a living and I'm very passionate about it.
Jon Secada leads by his own example of balancing the many roles in his life and where his creativity thrives across these various identities. In the following interview, Secada reflects on his multicultural heritage, life in the entertainment industry, and what it means to tap into your individuality, allowing your creativity to continually flow.
INTRODUCTION
How has being born in Havana, Cuba and raised in Miami, the US, shaped your sense of self?
Even in the early 70s when we moved to Miami, Florida, the city was already infused with Latin culture. I never felt like my traditions or my roots as an Afro-Cuban American were something that were missing at all. I lived them and felt good about them. So being a kid and growing up here in South Florida, United States, I recall like a bridge between what I remembered being a kid in Cuba and being raised here in the US—the perfect dream. Because my traditions, my roots, my heritage and who I am, never really changed. But except the fact that my family and I had freedom, we had the choices that we never had in Cuba. Maybe, because of my upbringing, my parents reminded me every day of those traditions and the connection with Cuban culture. And at the same time, we were living in an environment that we sensed it, we felt it, it was second nature living in Miami.
ENTERTAINMENT INDUSTRY
Congratulations on your spectacular 30-year anniversary in the entertainment industry. How would you describe your process of contributing with your music and how does it feel to you carrying the legacy of representing Latin culture throughout the world?
I was very, very fortunate, because when I first got signed as a recording artist, even though my roots were in Spanish, the company didn't know, at first, anything about my background, so the music that they heard was all in English. And it had the fusion in the mix of so many things. So when I started to travel, I felt that I was promoting the fusion of who I was. And then what started to come out was the fact that I was Afro-Cuban American. My roots were in the influences of what my music was, because I was a part of a community that had so many different flavors musically. At the same time, I went to college, and I studied jazz music. So there were a lot of things that were a part of who I was—the fact that I was an artist, that had a lot of different influences, in many ways, personally, because of where I come from, and the way that I was raised. And then the fusion of the music and everything that I grew up listening to in Miami.
I'm bilingual, so when I was speaking in interviews, I would tell everybody I was singing in English, but the ruth is that my music is a result of so many things that are part of my life. And I think in the early 90s that's what I brought to the audience—the fusion of cultures, music styles, and I think that I credit that to living in Miami. I really do. Because that's the way that was able to blend it all together.
With over 20 million records sold, and two times Grammy Awards winner, makes you one of the best-selling artists in Latin America. The entertainment industry is considered very competitive. In your experience,what does creating from the perspective of competition versus creating from the perspective of joy mean to you?
Our dilemma, especially if you want to make it in the business, is how to express yourself. And hopefully express yourself in a way so that people like it. I think what made my career happen, is because it started with me finding joy in the music that I was doing, and that I felt was right for me to express. So if it was good to me, and I feel joy in it, and I am honest, then maybe people would like it. Now, of course, you never know. Especially 30 years ago, working with the record companies and their politics, that's another different story. But at least the way that I need my songwriting partners, and producers, the way that we were at it, we were very adamant. It's like, let's do what we feel is bringing us joy, and makes us feel good about what we're doing. Without thinking about the market. You know, and that's always I think that's the best way to look at it. In the end, whether or not people are going to like it, in my opinion, it's out of your control. So might as well be honest with yourself, then maybe your honesty will show in your music.
MUSIC
What would be the most candid moment you can remember in your relationship with Emilio and Gloria Estefan?
I remember a few specific moments with them, and those moments were obviously very important to me, because it changed my career. I do remember the very first time I officially met Emilio Estefan and I'll never forget it. And it's still very vivid in my brain and in my heart. I met him in the mid 80s at the time when Gloria was really at the peak of her booming career. And Emilio was still working out of the garage of his mother's house. Shortly after that he bought the building that became the Crescent Moon Studios. So Emilio was at the pinnacle where so many important things were happening for Gloria and at the same
time for himself as a producer. And so I'll never forget the first meeting and the things that he told me. Those are very vivid moments. Interestingly enough, I remember meeting Gloria maybe a year or two before that at a studio because I was still working in nightclubs doing gigs in a lot of different places. And Gloria was in a session doing something in this particular studio. And I remember meeting her without realizing the fact that eventually we were gonna end up working together. And she was very, very sweet and very nice to me. So, those vivid memories are still very clear in my heart. And of course, the rest is history. Because we worked together for 18 years and did a lot of things. And it was a wonderful time for me to be a part of it. And I feel very lucky because as a songwriter and a producer it became real because of that initial meeting.
How would you describe the essence of the music you create and how has your music evolved?
The essence of my music I feel comes from the fact that I think as a musician first then as a songwriter. My songwriting heroes were singers and songwriters that had very deep musical backgrounds. When I heard artists like Billy Joel, Elton John, Stevie Wonder, and bands like Earth, Wind & Fire, I heard in their music, the substance and depth of a lot of the things that as a musician I was studying. These are artists, bands, songwriters, and musicians that have a lot of depth. And so my music, I feel the essence it's a combination of the fact that it came from a place of being a jazz musician. Especially once I studied music, I realized, 'Wow, these people are writing music at a level in the pop music world that I understand. And I realized the value of it because I recognize the music, the musicality, and the substance of it. My music became because
of these influences. And of course, my influences because of studying jazz music, my education then eventually comes into play as that's the way I communicate.
As a composer, you have written songs for yourself and many Latin singers. How would you describe your state of being when the lyrics and the melodies emanate from your wholeness?
My state of being in those moments is magical. Especially when all the songs that were important in my career that started with the kind of, in a pad, writing what I call lyric fragments—just ideas and thoughts. Then when I would get together with my songwriting partners—especially with Miguel Morejon. He's the one that I wrote all my hits; the way those songs came together is because we were sitting in a room and we started to talk about what's going on in the world, talk about the present and past relationships. Mike and I are dear friends, we went to high school together, so we talk about a million things. The way that it would work as a musician collaborating with him is so special as it starts with a conversation between two friends. Then after those conversations, he plays me the idea that he had, the sequence, whatever blueprint he had, then the ideas really started to flow. Now, it was the fact that we had shared our feelings, our thoughts about things that were part of our lives. And I feel that the most successful one are that way. They come from me spending time with the person I love to collaborate with.
From all of your songs so far, which one of them has really wrapped your heart and, as a reflection of you, has stayed in the hearts of your audience?
I know this is cliche. My favorite song is my very first hit, Just Another Day (Otro Día Más Sin Verte in Spanish). To this day is the one that I feel dear to me because I remember how we wrote it. And I remember the look on my friend's face after we came up with the hook of the song and we looked at each other with agreement, 'Wow, I think you like it. I like it.' So we looked at each other and we nodded, 'I think it's something good.' I will never forget a mental picture of the moment that we wrote that song and I will never forget it because that song is the reason that I have a career. It was my very first hit in both languages, English and Spanish. Miguel and I still talk about how that song came to be.
Do you have any plans to tour? What emotions do you feel the moment you step onto the stage, merging the energy of your voice with the audience present at that moment?
We're working on it. This has been a tough couple of years with the pandemic. I really feel and believe that we're over it then we can really move forward. Because for me, it deals with a lot of international outlets that
we want to work and travel, but traveling has been a little bit difficult. But God willing, yes. And especially this year, we have a lot of plans and a lot of projects. We're going back to the studio to celebrate my 30 years as a recording artist. And so my manager and I are figuring out how to maximize, how to travel, how to do our shows everywhere, without any issues. Because a lot of our audience are elders as well.
The moment I step on stage, I feel very lucky,very blessed. That's all I can say. Because after 30 years, to have people still enjoy what I do,and for me to still want to do it, and to still have the strength to do it with my voice. That feeling is so special. I'm more reflective these days, more than ever, because I realize how lucky we are, especially when you're an artist and you get that opportunity to be a successful musician. It's such a tremendous feeling. So for me, it's a feeling of thankfulness—being blessed in and living the moment.
The latest album, Solos, created by you and Gonzalo Rubalcaba, was released in 2021. Could you share the process of creating it and why you were inspired to create it? And any plans for a new album?
The Solos project, for me, was a labor of love. I really always wanted to do that. Deep down inside I'm a jazz musician, and there was a part of me that wanted to try to do a project like that, in Spanish. And I was very, very fortunate that Gonzalo Rubalcaba agreed to do it with me. It was inspired by a recording that I heard while I was going to college in English, and I wanted to do it in Spanish. And so that was,
for me, kind of like something that I needed to do more than anything else for myself, after 30 years of music.
Moving forward, the new music album that we're doing is still going back to more of what my career is all about, and what people know it to be all about. Is more attached to pop, whatever people enjoy, and so it's very Urban Latino. So there are many collaborations as well that are going to have the flavors of what's going on right now on the radio, and in the Latin music world. And, but of course, at the same time it deals with me and the influences of who I am as a singer-songwriter, and the fusion I bring to the table. But it will have that connection that is happening right now in the music world. I love the fact that I can do both, that I was able to do a record like I did with Gonzalo and now I can turn around and grind through the 30th anniversary, and do an urban pop record that is what people know me for.
VOICE-OVER ACTING
On one of your current projects, the Disney Junior series The King of Hearts, you gave your voice to the king. Have you gained any new awareness that you apply now in your daily life after portraying this character?
The character itself, and the animated series is very unique, because it's Alice in Wonderland's King of Hearts little cartoon, but made with a new sense of ethnic awareness. So it deals with the ethnic awareness combining cultures from all different sides, from all different worlds. And the Cuban heritage is a big part of it, and I loved the fact that Disney came to me to be part of this project. And I was able to give something to this character that deals with who I am as an Afro-Cuban American. To add into this, being a character, such as King of Hearts for kids to enjoy. I love it. I also did musical theater to support my career
and it's a big part of me, and now it's also been a big part of my daughter's career. And actually my daughter was the one that helped me to work on this character. Because when I was trying to audition for a different part that's attached to working with Disney, then this particular role came about. But the person that helped me get through it was my daughter, Mikaela Nina. She just graduated from Michigan with a musical theater degree. So she was my coach. And I love the fact that she was the one who helped me to bridge my career as a musician with becoming an actor for a voiced animated character. And, it was fantastic. And the character is beautiful and lovely. And he is very joyous and full of life and loves to dance salsa—he is of Cuban heritage. It's been a wonderful experience being part of it. We did the first season, we're about to start to record the second season.
GOOD SOUL
When you established yourself as an artist, you continually gave back through different charities. How do you currently bring awareness to the humanitarian causes closest to your heart?
Awareness comes whenever the opportunity, whenever I'm asked to be a part of a charity, or to lend
my name—if I can do it, I'm there. If I'm able to be a part of it, I'm there because I feel that it's an extension of being a public figure, so I try to be a good example and give something back at all times whenever you can. So, It doesn't matter to the charity ifI'm able to work it into my schedule
and to be able to figure out how to get back with monetary contribution or through my career. And the fact that I've done that for dozens of charities in my 30-year career, will give me an example to other artists, other young people, including to my children as to the responsibility that we have to especially now more than ever in this day and age to give something back to society anytime we have an opportunity to.
Credits
Interview
Armand Álvarez
Creative Direction
Ambika Sanjana
Artistic Direction
Armand Álvarez
Sanja Polovina
Photography
Damelys Mendoza
Grooming
Michelle Salvador
Wardrobe
Ambika Sanjana
Wardrobe Asst
Brianna Jennings
Leksy Wolk
Location
Carillon Miami Wellness Resort
Project Coordinator
Handz Dirty PR
---