The Spanish company Jeanologia, specialized in the development of eco-efficient textile production technologies, has joined forces with the Swiss inspection and certification company SGS to launch a tool that measures the reaction of denim fabric to the laser, taking into account sustainability criteria.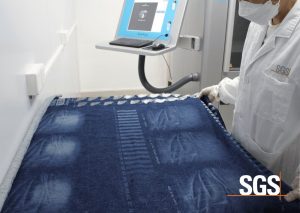 Advanced Light Sensitive Fabric Text is the name of this service, which quantifies the suitability of denim fabrics for laser marking based on light sensitivity. This provides an «objective score» of fabric quality, SGS said in a statement.

With this tool, it analyzes and measures how denim fabrics react to laser marking (a technique increasingly used in the industry) and which fabrics can obtain better finishes with less environmental impact.
«Our mission is to change the industry and make it more ethical, eco-efficient and sustainable. To do this, we not only need to change the sourcing model, but also incorporate new methods and techniques for analysis and standardization. All stakeholders need to look in the same direction,» stressed Enrique Silla, CEO of Jeanologia.
«We are seeing how laser marking is transforming the industry by significantly reducing water waste and the use of toxic chemicals during production. For manufacturers looking to take advantage of greener technology, this tool can be a vital step in that process,» said Yvonne Tse, vice president of SGS Global Softlines.
This is not the only recent sustainability partnership for Jeanologia, which earlier this year announced its collaboration with Archroma to launch a denim laundering solution with less environmental impact.
Jeanologia was founded in 1994, has 10 subsidiaries on five continents and employs more than 250 people. Headquartered in Valencia, exports of its machines and services account for 90% of its turnover and, according to its figures, more than 35% of the 5 billion jeans manufactured each year worldwide are produced with its technologies.