LYNNIE MARIE
INFLUENCER FRONT COVER MAY 2022
MODEL – MISS LYNNIE MARIE
PHOTOGRAPHER – TUTO EXPOSURE
HMUA – @beautybymichellev
EXECUTIVE PRODUCER – PAUL HEYMAN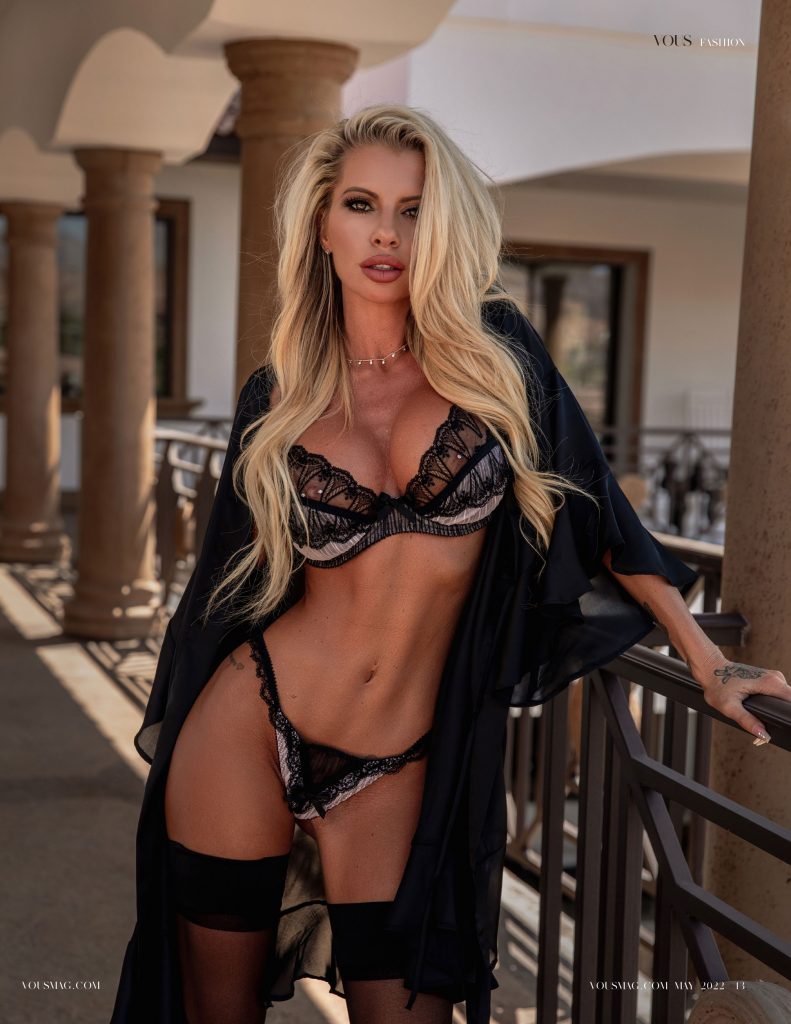 LYNNIE MARIE
Influencer Back Cover May 2022
Get to know LYNNIE MARIE
EXCLUSIVE!
MISS LYNNIE MARIE
California's Hottest Style Influencer
By Silvestro Colaizzi
EXCLUSIVE PHOTOS FOR VOUS MAGAZINE BY TUTO EXPOSURE
It's that time again.
Time when VOUS Magazine tells you who is the influencer de tuti influencers when it comes to "style" in the never-ending world of fashion. This year, the field is filled with Jenners and Kardashians, as well as a number of former Victoria's Secret Angels like Alessandra Ambrosio and Candice Swanepoel. And who can deny the incredible influence Rihanna demonstrated in maternity fashion while carrying her and A$AP Rocky's first child?
2022, however, belongs to Miss Lynnie Marie, the swimwear and lingerie model who replaced Pamela Anderson as California's most celebrated blonde bombshell when she launched the sensational "Coffee and Cleavage," the podcast "without limits about life, sex, dating and everything in between" with fellow VOUS Magazine cover model and #HustleBootyTempTats supermodel Shantal Monique.
#HustleBootyTempTats is the brainchild of WWE legend Paul Heyman, who portrays the "Special Counsel" to WWE's Undisputed Heavyweight Champion and perineal WrestleMania main eventer Roman Reigns on camera, but has been known as a writer, director, producer and power broker behind the scenes for decades.
As a disruptor in the industry, Heyman shot to fame as the owner and creative force behind the "ECW" Extreme Championship Wrestling brand, where he was named as one of the top 100 global marketers by Advertising Age magazine.
Heyman took that marketing rep and co-founded New York City's Looking4Larry Agency, a Park Avenue firm specializing in production, advertising, marketing and branding. That's where Heyman created the wildly popular #HustleBootyTempTats brand, and vowed to shake the modeling world to its very core.
Ever hear of Ellie Gonsalves? Of course you have. The Australian beauty was the very first #HustleBootyTempTats Supermodel of the Year, and was immediately signed as Paul Marciano's number one new Guess Girl, also signing with William Morris Endeavor and Dwayne "The Rock" Johnson's Seven Bucks Productions. She is, as of this writing, Australia's most visible supermodel.
How about Jala Sue, the Paddleboarding champion from Michigan? The 42 year old mom of four is the very embodiment of the female empowerment movement, and is best known for being a globally-trending #HustleBootyTempTats supermodel.
There's the UK's Miss Ali Drew, a noted fitness guru and Mixed Martial Arts broadcaster. She's a #HustleBootyTempTats supermodel, too.
So is Daniella Chavez, the Chilean bombshell with 16,000,000 + Instagram followers who is best known for her "entanglement" with soccer legend Cristiano Ronaldo.
With Victoria's Secret abandoning the "Angels" concept and Sports Illustrated tinkering with the formula that made the Swimsuit edition so popular, a noticeable void has been created at the very top echelon of the supermodel universe. And that is where #HustleBootyTempTats supermodels and their creator Paul Heyman have stepped in.
Capitalizing on the opportunity at hand, Heyman and Co. rented $20,000,000 USD estates in Bel-Air, California and on Lake Las Vegas, Nevada. From those two locations, Heyman's team put together what many have called the most ambitious supermodel photoshoot ever. Flying in some of the top supermodels and social media influencers from around the world, Heyman paired them with a slew of photographers to facilitate new collaborations that would make the entire world forget the "Angels" ever existed.
This exclusive photo shoot for VOUS Magazine comes to you from the Lake Las Vegas location, where Miss Lynnie Marie collaborated with famed Miami-based photographer "Tuto Exposure," whose recent work in several high end campaigns has made him a household name in the modeling world.
"Miss Lynnie Marie is a magnificent talent to work with," Tuto told VOUS Magazine. "She's so relaxed in front of the camera, and understands this is a game of capturing the perfect moment. She's so patient in getting that one shot, that one moment that tells the story and delivers the image we have been chasing after!"
"I love VOUS Magazine!" Miss Lynnie Marie exclaimed when the idea of this exclusive fashion and style photo shoot was pitched to her by Heyman. "VOUS is a lot like #HustleBootyTempTats and the Coffee & Cleavage podcast, they are disruptors who are not only changing the industry for the better, but bringing a higher quality of content than ever seen before! I'm so happy to be a cover model for this fantastic fashion magazine, and I hope everyone loves the images we created with the brilliant Tuto Exposure!»
"There's one thing about Miss Lynnie Marie you can always count on," Tuto said with great confidence. "She never disappoints!"
Credits
---