Ecodicta, a platform dedicated to fashion rental by subscription, jumps to the physical plane with a first point of sale in Santander, in the concept store Waahi, located at number 18 of Cadiz street in the Cantabrian capital.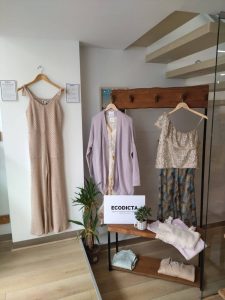 The store, which specializes in furniture, has expanded its offer by incorporating an Ecodicta corner. In it, customers can see a representation of the garments that make up the platform's closet and purchase a subscription to then choose the garments online and have them delivered to their home.

«Merging online and offline is key to multiply synergies. Having for the first time a physical space where customers can try on and touch the garments is essential for us,» explains Mercedes García, co-founder of Ecodicta, which seeks to expand its user base with this action.
The platform was born in Madrid in 2018 with an initial investment of 8000 euros and the objective of contributing to boost circularity in fashion. Last 2021 it scored a turnover close to 100 000 euros and recently, and with the goal of tripling its turnover, it opened its offer to second-hand clothing.