ARIADNA GUTIERREZ
«EMBRACING MY CONTINUAL BECOMING»
CELEBRITY FRONT COVER JUNE 2021
Photographer: VIVIAN ARTHUR
Photographer Assistant: YARELI MACEDO
Story: ARMA ND ALV AREZ
Makeup Artist: PAULETTE CASTEL
Hair Stylist: LIO MALDONADO
Wardrobe Stylist: WINNIE STACKZ
Project Coordinator: HA NDZ DIRTY PR
Location: CARILLON MIA MI WELLNESS RESORT
Miss Universe:
ARIADNA GUTIERREZ
DRESS: FJOLLANILLA OFFICIAL
EARRINGS: SOS SHOWROOM
RING: SOS SHOWROOM
GLOVES: SOS SHOWROOM
DRESS: FJOLLANILLA OFFICIAL
EARRINGS: SOS SHOWROOM
RING: SOS SHOWROOM
GLOVES: SOS SHOWROOM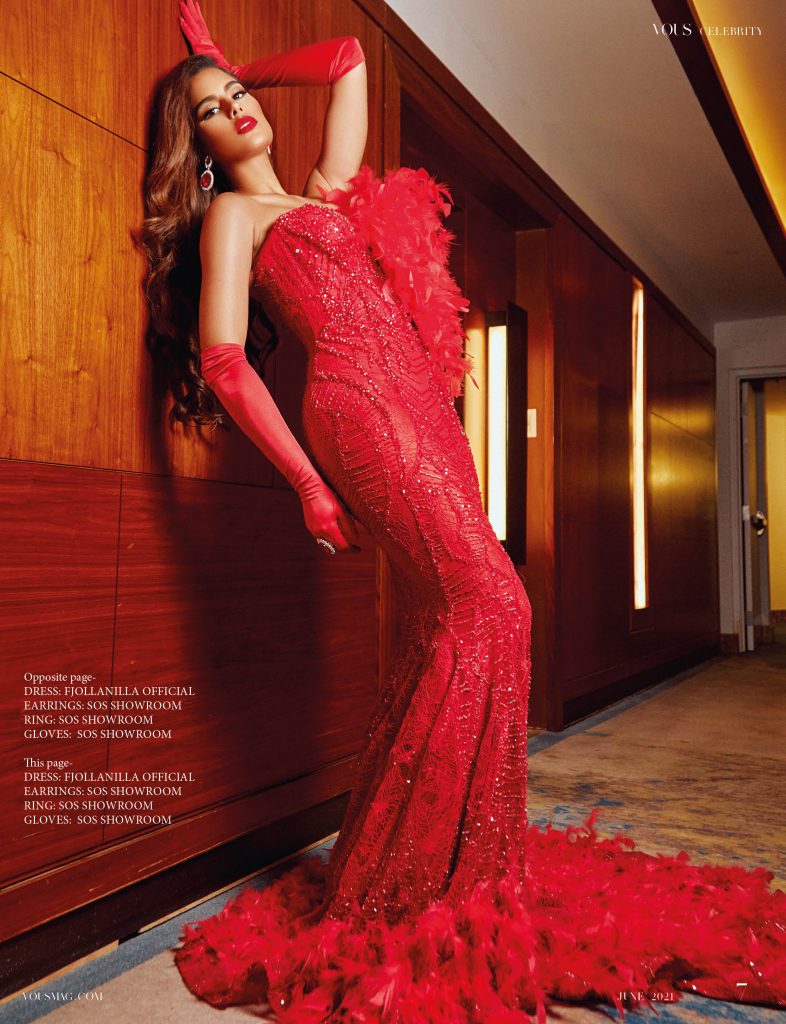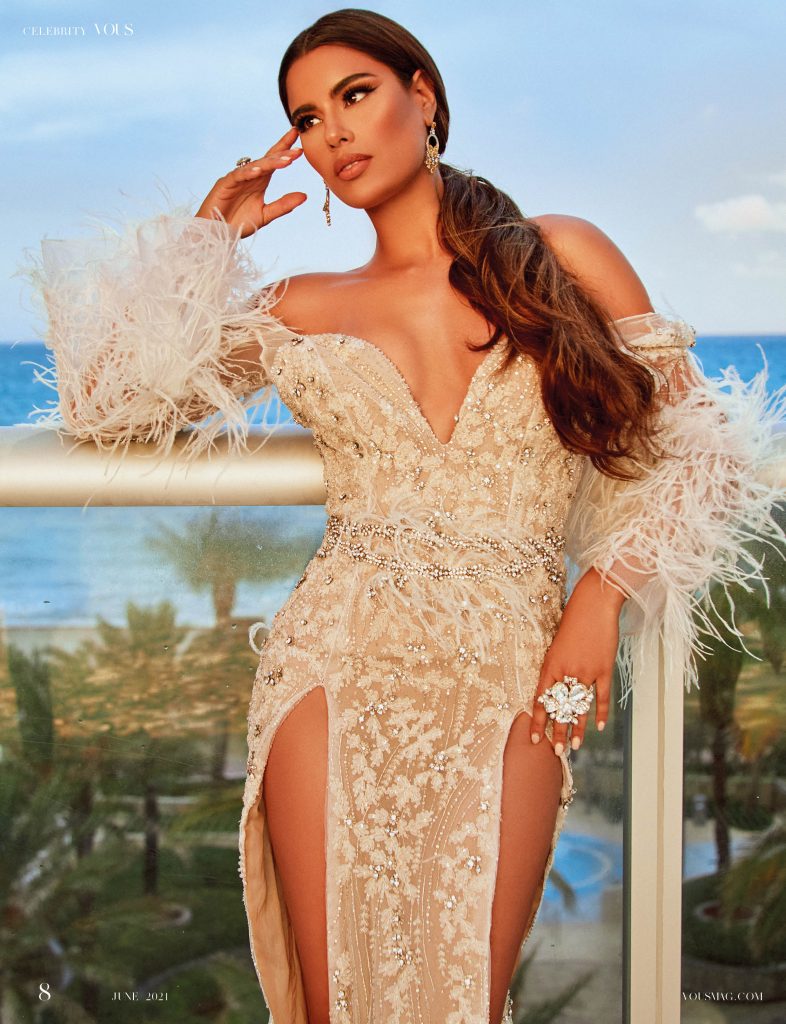 EARRINGS NATALIE MILLS JEWELRY
RINGS STERLING FOREVER
DRESS KAREN SABAG COUTURE
SHOES JESSICA RICH COLLECTION
DIAMOND RINGS BHOJAWANI
SUIT LOOK HARRY HALIM PARIS
BOOTS PAISLEYS LUXE BOUTIQUE
DRESS ASHLEYLAUREN
BOOTS SHOP AKIRA
EARRINGS NATALIE MILLS JEWELRY
RINGS STERLING FOREVER
DRESS KAREN SABAG COUTURE
SHOES JESSICA RICH COLLECTION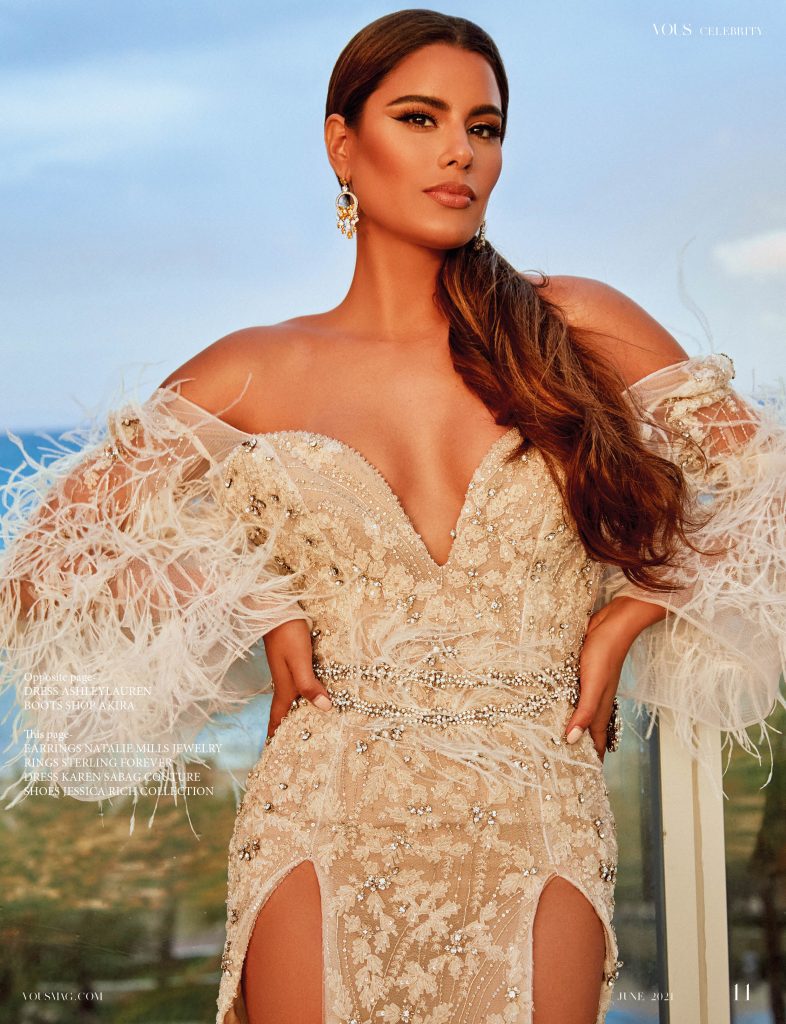 EARRINGS NATALIE MILLS JEWELRY
RINGS STERLING FOREVER
DRESS KAREN SABAG COUTURE
SHOES JESSICA RICH COLLECTION
DIAMOND RINGS BHOJAWANI
SUIT LOOK HARRY HALIM PARIS
BOOTS PAISLEYS LUXE BOUTIQUE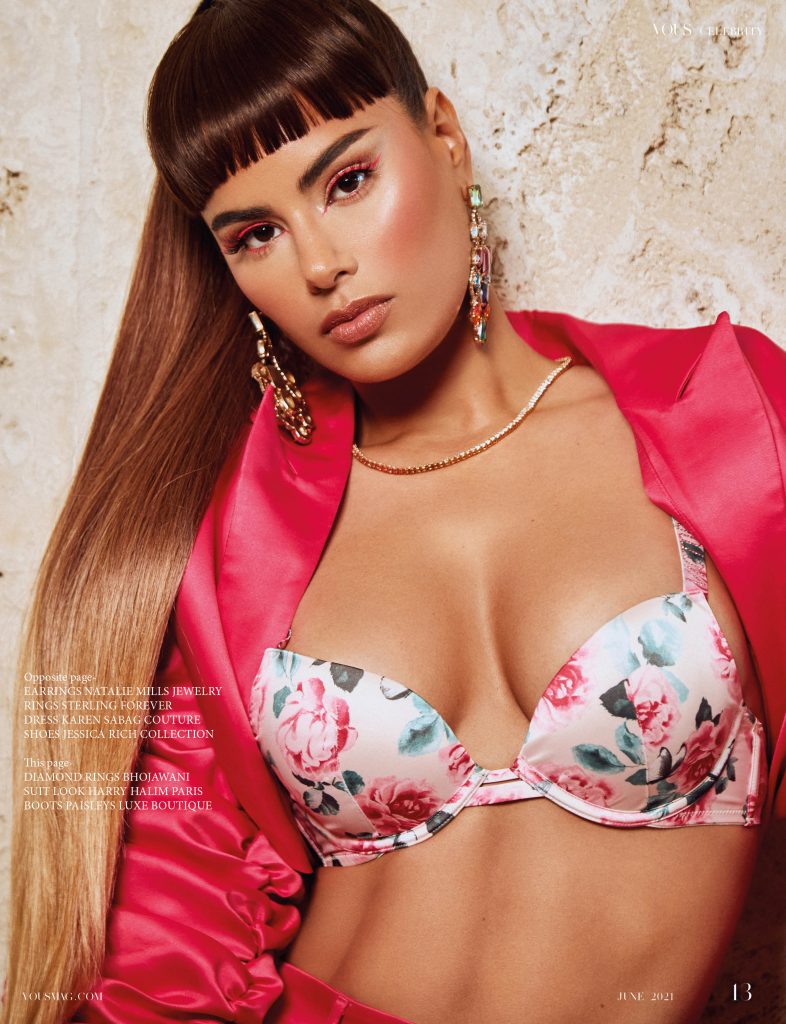 Lirios blancos
Ogawa Kazumasa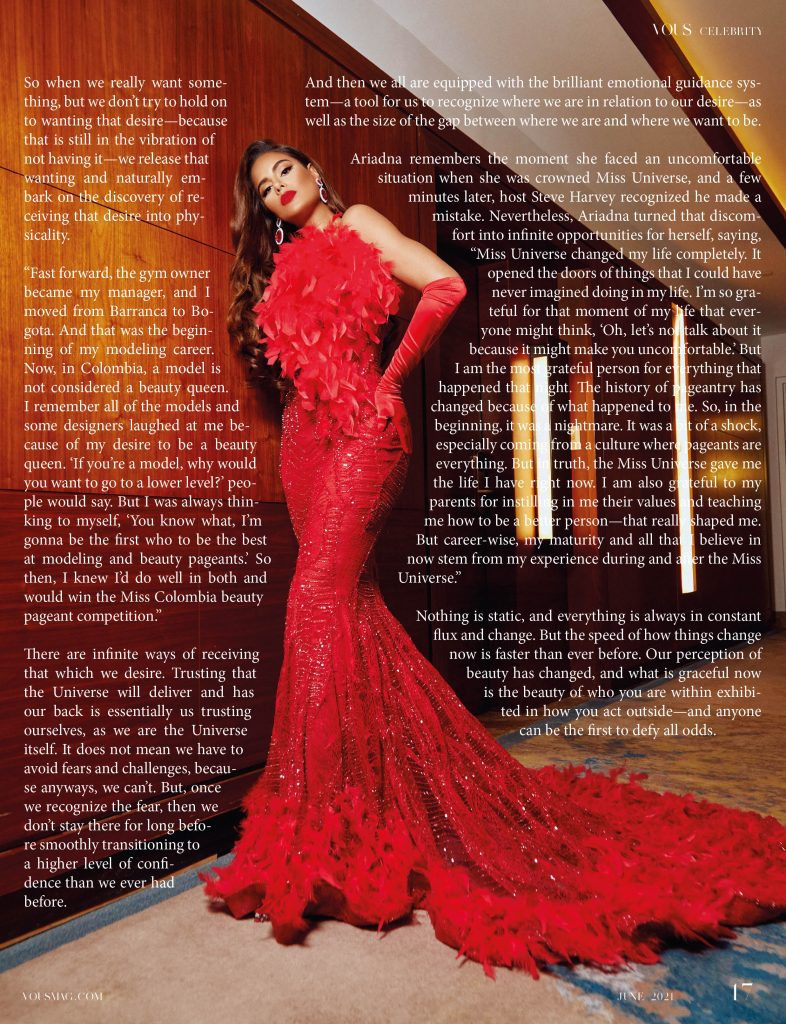 ARIADNA GUTTIEREZ
MISS UNIVERSE
CELEBRITY BACK COVER JUNE 2021
Get to know Ariadna
ARIADNA GUTIÉRREZ
EMBRACING MY CONTINUAL BECOMING
Have you ever asked anyone honest with themselves, who doesn't want to experience a life where they have the freedom to direct their own attention, and enhance their energy, toward fulfilling their dreams? Sometimes, we are not fully aware that we often argue for our own limitations and give our power away to believe that others and situations can control us. And though life's journey takes us through various situations, all of them can be valuable, and it's our choice to be reactive or proactive—that will make a difference in how we are experiencing and navigating through our existence.
"I've always considered myself a very passionate person," says Colombian beauty queen Ariadna María Gutiérrez Arévalo, who has chosen to fully commit to her own desires and embrace her continual becoming. "No matter what I do, even if it's something silly, I do it with passion. In whatever I do, I always strive to be present in that moment. I try to enjoy every single moment just the way it is because I've come to realize that you never know what can happen in the future. So, every time I engage with something new, whether it's a new friendship, hobby, or business, I try to do it with passion."
We navigate through life, observing the immense variety that surrounds us. Then, within that variety we observe, we make our choices and define our preferences of what we want for ourselves. But, of course, that always entails some comparison, seeing what we dislike and what we like most, and integrating that into our own unique way of allowing the life force to express itself through our beingness.
"I also consider myself very competitive, and I try to do it in a healthy way. I'm a loving person; I show my emotions to the people I love and enjoy being with. And, of course, if I don't like you, you're gonna see it straight up. So, I think I express myself in a very straightforward way," says Ariadna.
Ariadna competed in the Miss Universe competition in 2015, which led her to become the first runner-up representing her beautiful country, Colombia. Although Ariadna had dreamed of becoming Miss Universe ever since she was a little girl, and for a few moments, she accomplished it. That event, like a quantum leap, has transformed her life forever.
"My dream actually started when I was really, really young. Nobody in my family nor even my friends knew that I was into pageants and modeling. I've been watching the Miss Colombia pageant since I was a little girl. In fact, it was like a ritual because the whole country would gather every single day as if watching the presidential election—that is how big and popular the pageant contest is in Colombia as well as many countries in South America. So, for me growing up watching that show, I was always like, 'Oh my God! I would love to be there! I would love to be like one of those girls! I would love to win Miss Colombia, so I could go to Miss Universe,'" Ariadna shares about her first inspiration and thought about her new desire.
And then she continues, "But I grew up being the tomboy of the school, and it sounds like a cliche, but I was this girl who is always into sports. So I started swimming, and then I did volleyball professionally—I was always traveling with my school. During all the school breaks, I used to go and practice volleyball by myself. I never grew up imagining that I would be able to do anything related to beauty. One time, I went to Germany for a school exchange. Then, suddenly, I gained like 15 kilos over there, so I couldn't do the sports anymore. When I came back from Germany, I started going to the gym, and that's when the diet started. And for the first time, I lost all the weight I wanted. Surprisingly, the owner of the gym suggested that I should try my hand at modeling. And that was the first time in my life; I started thinking that this is something that I can actually accomplish."
Ariadna is an example of when a desire is stronger than even the full awareness of that desire. So when we really want something, but we don't try to hold on to wanting that desire—because that is still in the vibration of not having it—we release that wanting and naturally embark on the discovery of receiving that desire into physicality.  
"Fast forward, the gym owner became my manager, and I moved from Barranca to Bogota. And that was the beginning of my modeling career. Now, in Colombia, a model is not considered a beauty queen. I remember all of the models and some designers laughed at me because of my desire to be a beauty queen. 'If you're a model, why would you want to go to a lower level?' people would say. But I was always thinking to myself, 'You know what, I'm gonna be the first who to be the best at modeling and beauty pageants.' So then, I knew I'd do well in both and would win the Miss Colombia beauty pageant competition." 
There are infinite ways of receiving that which we desire. Trusting that the Universe will deliver and has our back is essentially us trusting ourselves, as we are the Universe itself. It does not mean we have to avoid fears and challenges, because anyways, we can't. But, once we recognize the fear, then we don't stay there for long before smoothly transitioning to a higher level of confidence than we ever had before. And then we all are equipped with the brilliant emotional guidance system—a tool for us to recognize where we are in relation to our desire—as well as the size of the gap between where we are and where we want to be. 

Ariadna remembers the moment she faced an uncomfortable situation when she was crowned Miss Universe, and a few minutes later, host Steve Harvey recognized he made a mistake. Nevertheless, Ariadna turned that discomfort into infinite opportunities for herself, saying, "Miss Universe changed my life completely. It opened the doors of things that I could have never imagined doing in my life. I'm so grateful for that moment of my life that everyone might think, 'Oh, let's not talk about it because it might make you uncomfortable.' But I am the most grateful person for everything that happened that night. The history of pageantry has changed because of what happened to me. So, in the beginning, it was a nightmare. It was a bit of a shock, especially coming from a culture where pageants are everything. But in truth, the Miss Universe gave me the life I have right now. I am also grateful to my parents for instilling in me their values and teaching me how to be a better person—that really shaped me. But career-wise, my maturity and all that I believe in now stem from my experience during and after the Miss Universe."
 
Nothing is static, and everything is always in constant flux and change. But the speed of how things change now is faster than ever before. Our perception of beauty has changed, and what is graceful now is the beauty of who you are within exhibited in how you act outside—and anyone can be the first to defy all odds. 
 "Five years ago, I would have told you the industry sets beauty standards, but now it's the people. So, you can see a super famous brand showing and pushing for a specific beauty standard, but you can as well see the community saying, 'No!' And right now, the people are winning; it's not the brands anymore. So, I believe that beauty is inextricably linked to your mindset. For me presently, it's more mental and more spiritual than physical."
We only can teach through our own example; there is no assertion unless we allow ourselves to be influenced by someone else. But it's always our choice on how and whom we allow ourselves to be influenced from. Our lives are a delicious cocktail of experiences that always refills themselves. All of these experiences are available to us, and we can mix and match them to create something new, something wonderful, something soul-stirring.
"I think I absorb the best of everything that I learned from working with designers, huge brands, amazing companies throughout the years, as well as everything I like in the people that have the knowledge. Now, I am finally able to put that into my own company. And this is the first time I've gathered all of the information and knowledge I acquired over the years into something that is solely mine, and it's been a challenge. But now I understand why I had to go through all of those experiences and meet all of the individuals I did. That taught me how to get tough and also how to prioritize myself," says Ariadna as she is aware that if she is not in her fullest, she can't neither offer to others her fullest.
Ariadna has started a new project, and she exclaims, "Now, I know how I can help the rest of the world and whoever is in my immediate vicinity. So, at the beginning of the quarantine—due to COVID-19—I started the project Train4Life. Like many other millions of people, I started not having any energy. During the day, I started asking myself stupid questions. I was depressed and started to gain weight. So, my trainer and I decided to work out every day with the people in my community and my followers. We were doing it at 9:00 AM every single day—Monday through Saturday—for a month. Then we started having guest appearances on Saturdays, where other celebrities would work out with us. That's how the project was created. So we decided to create a platform called Train4Life because we were doing live workouts. Suddenly, we had thousands of people connecting with us every single day. They now pay a one-time fee and can work out with us for the entire year—they have a full year to complete the challenge. Other visitors will be brought in so that people may work with their favorite celebs and achieve something unique and valuable from the comfort of their own homes."
Ariadna has a profound desire to be the best example for everyone; she wants to be steady enough for others to follow in her footsteps. That also reflects in her contribution to humanitarian causes and her willingness to assist those in need whom she encounters.
"I think it's a game between you and the Universe because you can always see the glass half full or half empty. And in every circumstance in your life. It will show you where you should concentrate your efforts. You are your own karma. What's more, guess what? We all are doing it ourselves."
Just like Ariadna eloquently mentioned before, you have to give our power away because nobody can't take it unless we allow it to happen. We are innately worthy, and we are incapable of anything other than loving and being loved—love is our essence. And as a spiritual teacher, Weola once said something that sounds simple, yet it's deeply engraved in who we are, 'All is Well. All is Loving You. All is Available to You.'
---
«I´ve always considered myself a very passionate person»

— Ariadna Gutierrez, Miss Universe
---