ALEJANDRA ESPINOZA
NUESTRA BELLEZA LATINA 2022
CELEBRITY FRONT COVER SPECIAL CHRISTMAS 2022 ¡¡¡
CREDITS:
INTERVIEW — ANDREA KIDD
PHOTOGRAPHY — MICHAEL J.
MUA — CHRISTINE TIRADO
HAIRSTYLIST — ANTONIO ESTRADA
WARDROBE STYLIST — JESSIE J. STYLING
WITH MCINTYRE MGMT
PRODUCTION ASSISTANT — JAY MARIE
LOCATION — CLOUD STUDIOS DTLA
PROJECT COORDINATOR — HANDZ DIRTY PR
PROJECT COORDINATOR ASSISTANT — VANESSA GRANADOS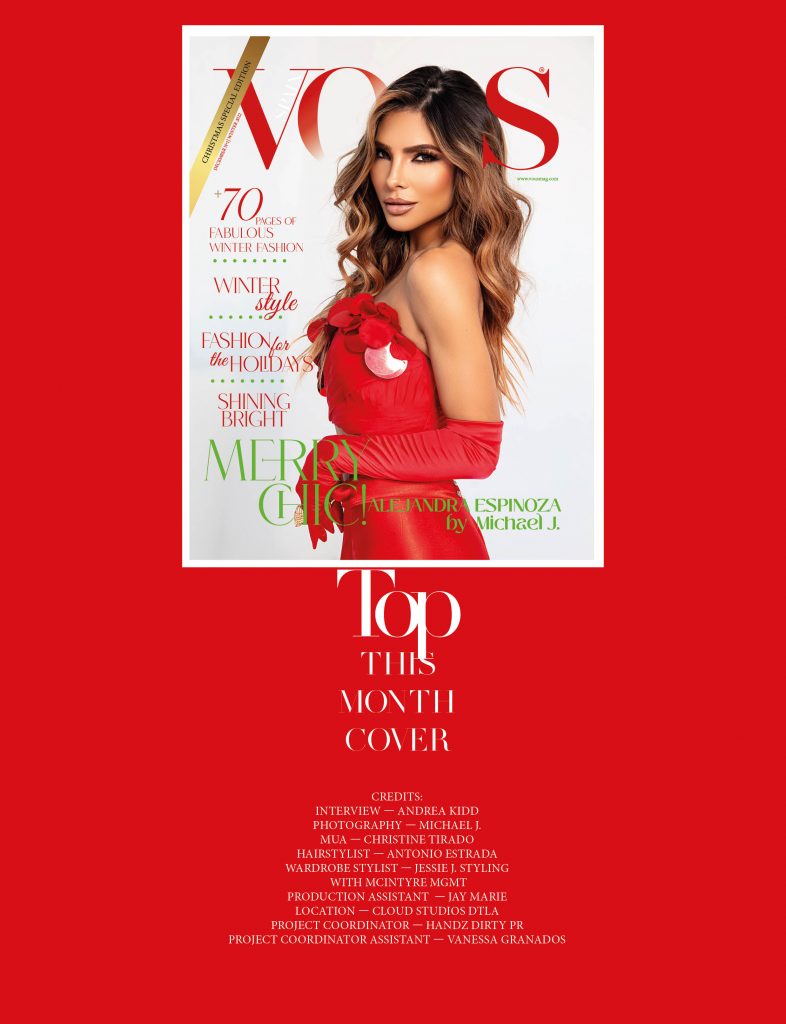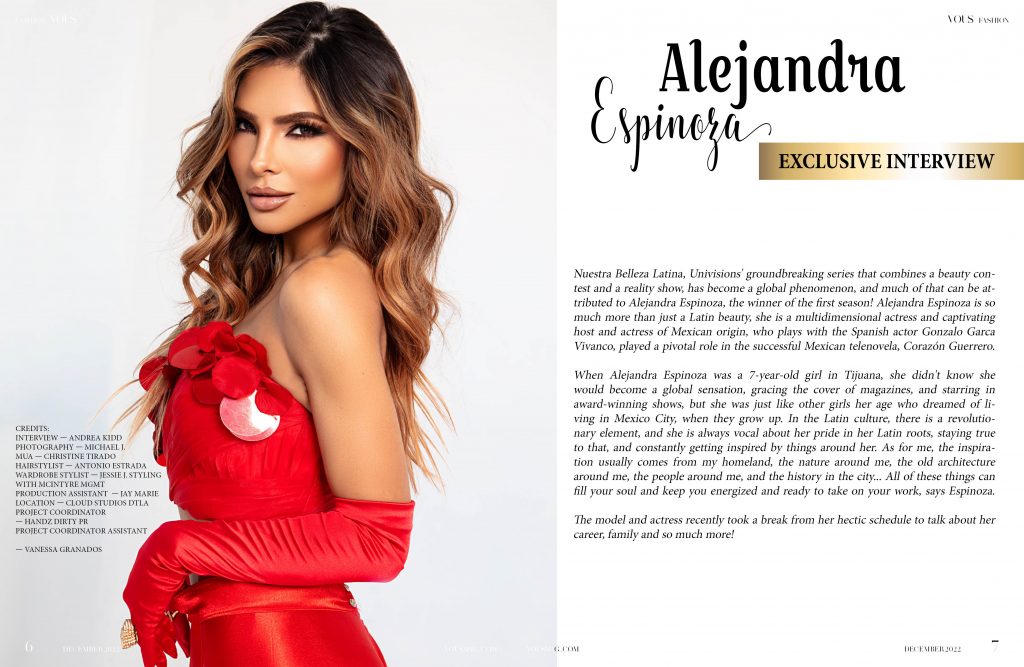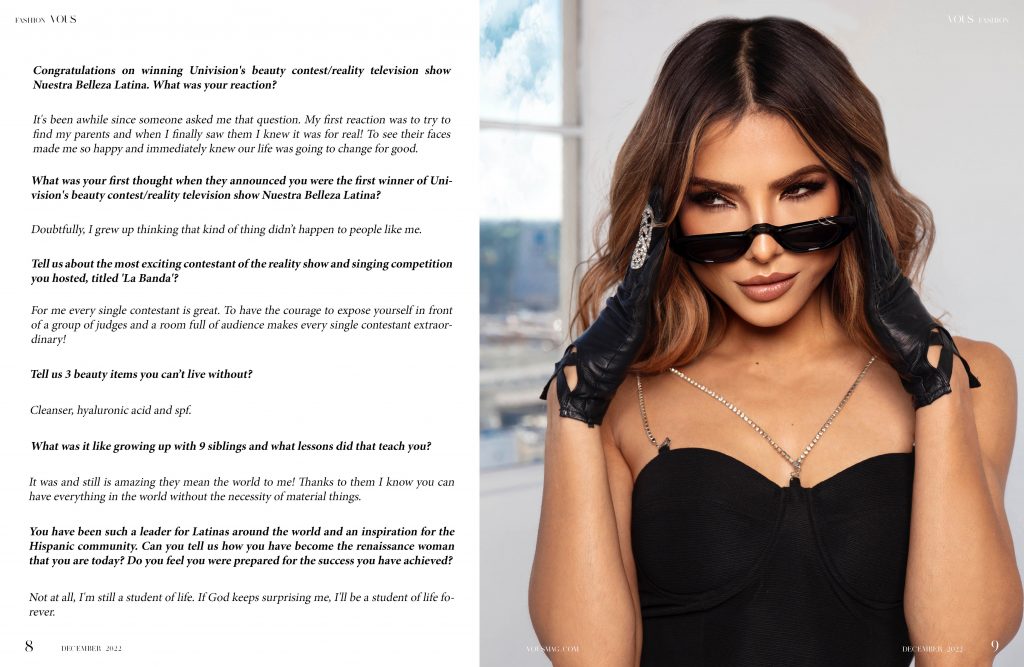 Get to know Alejandra Espinoza.
by ANDREA KIDD
Nuestra Belleza Latina, Univisions' groundbreaking series that combines a beauty contest and a reality show, has become a global phenomenon, and much of that can be attributed to Alejandra Espinoza, the winner of the first season! Alejandra Espinoza is somuch more than just a Latin beauty, she is a multidimensional actress and captivatinghost and actress of Mexican origin, who plays with the Spanish actor Gonzalo Garca Vivanco, played a pivotal role in the successful Mexican telenovela, Corazón Guerrero.

When Alejandra Espinoza was a 7-year-old girl in Tijuana, she didn't know she would become a global sensation, gracing the cover of magazines, and starring in award-winning shows, but she was just like other girls her age who dreamed of living in Mexico City, when they grow up. In the Latin culture, there is a revolutionary element, and she is always vocal about her pride in her Latin roots, staying true to that, and constantly getting inspired by things around her. As for me, the inspiration usually comes from my homeland, the nature around me, the old architecture around me, the people around me, and the history in the city… All of these things can fill your soul and keep you energized and ready to take on your work, says Espinoza.
The model and actress recently took a break from her hectic schedule to talk about her career, family and so much more!
Congratulations on winning Univision's beauty contest/reality television show Nuestra Belleza Latina. What was your reaction?
It's been awhile since someone asked me that question. My first reaction was to try to find my parents and when I finally saw them I knew it was for real! To see their faces made me so happy and immediately knew our life was going to change for good.
What was your first thought when they announced you were the first winner of Univision's beauty contest/reality television show Nuestra Belleza Latina?
Doubtfully, I grew up thinking that kind of thing didn't happen to people like me.
Tell us about the most exciting contestant of the reality show and singing competitionyou hosted, titled 'La Banda'?
For me every single contestant is great. To have the courage to expose yourself in front of a group of judges and a room full of audience makes every single contestant extraordinary!
Tell us 3 beauty items you can't live without?
Cleanser, hyaluronic acid and spf.
What was it like growing up with 9 siblings and what lessons did that teach you?
It was and still is amazing they mean the world to me! Thanks to them I know you canhave everything in the world without the necessity of material things.
You have been such a leader for Latinas around the world and an inspiration for the Hispanic community. Can you tell us how you have become the renaissance woman that you are today? Do you feel you were prepared for the success you have achieved?
Not at all, I'm still a student of life. If God keeps surprising me, I'll be a student of life forever.
Were there any resources you wish you had while trying to break through that are available for young Latinas now? What still isn't available for young Latinas that you'd like to be?
Social media wasn't what it is now. I believe that if one uses the platform the correct way, one can find so many tools and people that can help you grow as a human being and as a professional. Also, since I was the first winner of NBL there wasn't a path for me to follow. I had to learn and open doors that I didn't know existed, I always thought how amazing it would've been if there was another queen before me to know what to expect.
Every industry, including the entertainment industry, is full of competition; what do
you do to stand out amidst competition?
By being loyal to myself and my beliefs. I don't think there's such a thing as competition. I rather see them as an inspiration. What do you do to maintain your health and wellbeing these days? I read a lot, spend time with my family and focus on the important things in life. I try to live in the moment!
What has been the biggest obstacle you have had to overcome?
I think every obstacle is an opportunity to grow. However, I would have to say, it might have been when I recently moved to Mexico City for 7 months. It was tough on my family not because of the city (as we fell in love immediately) but because of the long working hours.
A question for you that's a little more complicated. Do you find it a challenge being a Latina in Hollywood?
Not at all. Right now, it's actually a plus everybody loves Latinas!
How does it feel to see yourself on the cover of magazines? I love it! One of my hobbies is taking pictures, so when I have to do it for a magazine cover it is like a gift.
INTERVIEW
ANDREA KIDD
PHOTOGRAPHY
MICHAEL J.
MUA
CHRISTINE TIRADO
HAIRSTYLIST
ANTONIO ESTRADA
WARDROBE STYLIST
JESSIE J. STYLING WITH MCINTYRE MGMT
PRODUCTION ASSISTANT
JAY MARIE
LOCATION
CLOUD STUDIOS DTLA
PROJECT COORDINATOR
HANDZ DIRTY PR
PROJECT COORDINATOR ASSISTANT
VANESSA GRANADOS
---