"We all have dreams and desires we would like to accomplish. Nevertheless, our persistence and stubbornness in always believing, moving forward, and doing things we love the most from our heart, can bring us everything we want in life. Venezuelan actress, Marjorie de Sousa, leads by her own example of strength and resilience, continually inspiring the world.."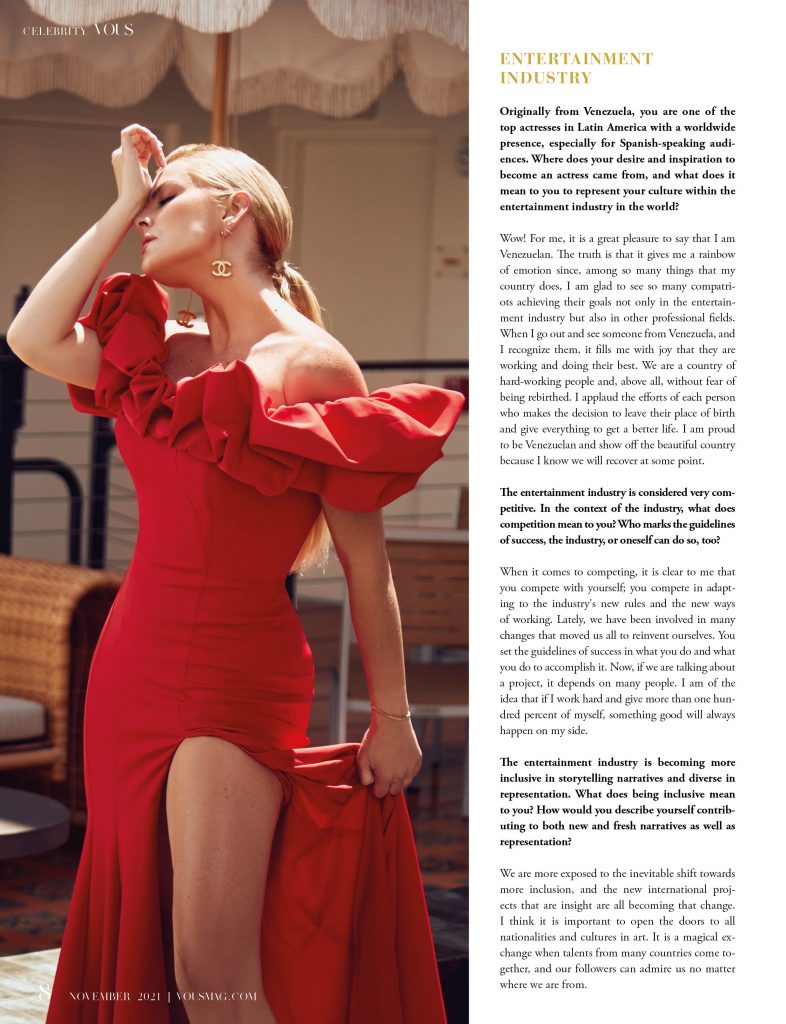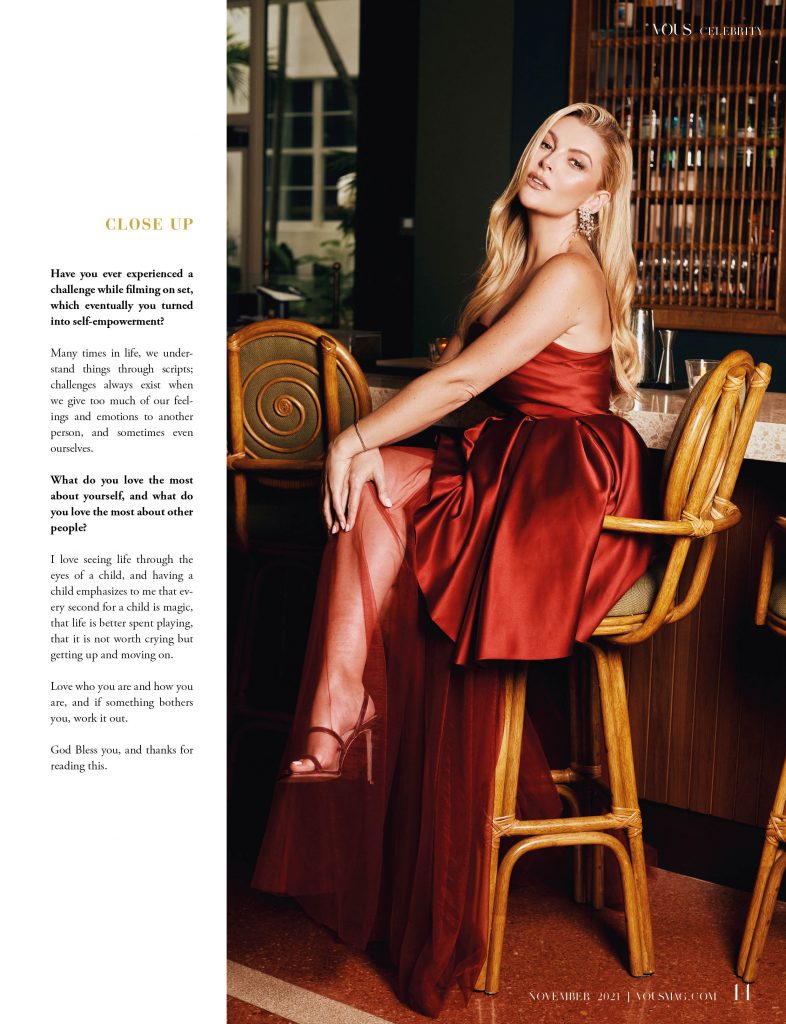 EXCLUSIVE INTERVIEW

ACTRESS


MARJORIE DE SOUSA
"ALWAYS PERSISTING FOR MY DREAMS "
MARJORIE DE SOUSA

Beyond your given name, Marjorie de Sousa, beyond your cultural background and upbringing
context, how would you describe who you are?
"I am a woman who never gives up in the face of adversity, who fights for what she wants and for
those she loves, regardless of what others think. I left my native Venezuela from a very young
age, and it cost me a lot to get to where I am; it took a lot of work, tears, many starts from
scratch in countries that were not mine. But I consider myself lucky to live all these experiences
and to be able to enjoy the best of every place. I keep fighting for my dreams and fulfilling
my goals. I support the people I care about and take them with me forward and feel proud of
achieving each step I set out to accomplish."
How does being born in Venezuela of Portuguese descent and living in Mexico and the
United States contribute to your sense of self?
"As I have said earlier, I feel fortunate to be able to live so many beautiful experiences: from my
Venezuela, I have the best, from Portugal also, from my Mexico, I have a huge learning, many
opportunities to grow and a beautiful family, and the United States was the springboard that
allowed me to travel the world with my work. I love what I am and what each place gives me.
I love being able to be where I am, and I thank each country for allowing it and opening my
wings to fly where I desire."
Originally from Venezuela, you are one of the top actresses in Latin America with a worldwide presence, especially for Spanish-speaking audiences.
Where does your desire and inspiration to
become an actress came from, and what does it
mean to you to represent your culture within the
entertainment industry in the world?
"Wow! For me, it is a great pleasure to say that I am
Venezuelan. The truth is that it gives me a rainbow
of emotion since, among so many things that my
country does, I am glad to see so many compatriots
achieving their goals not only in the entertainment
industry but also in other professional fields.
When I go out and see someone from Venezuela, and
I recognize them, it fills me with joy that they are
working and doing their best. We are a country of
hard-working people and, above all, without fear of
being rebirthed. I applaud the efforts of each person
who makes the decision to leave their place of birth
and give everything to get a better life. I am proud
to be Venezuelan and show off the beautiful country
because I know we will recover at some point'"
 "When it comes to competing, it is clear to me that
you compete with yourself; you compete in adapting
to the industry's new rules and the new ways
of working. Lately, we have been involved in many
changes that moved us all to reinvent ourselves. You
set the guidelines of success in what you do and what
you do to accomplish it. Now, if we are talking about
a project, it depends on many people. I am of the
idea that if I work hard and give more than one hundred
percent of myself, something good will always
happen on my side."
The entertainment industry is becoming more
inclusive in storytelling narratives and diverse in
representation. What does being inclusive mean
to you? How would you describe yourself contributing
to both new and fresh narratives as well as
representation?
"We are more exposed to the inevitable shift towards
more inclusion, and the new international projects
that are insight are all becoming that change.
I think it is important to open the doors to all
nationalities and cultures in art. It is a magical exchange
when talents from many countries come together,
and our followers can admire us no matter
where we are from."
Since 2000 you have appeared in many Venezuelan,
Mexican, and Spanish-American TV productions.
How would you describe the most significant
expansion within your personal growth that
this experience has given you?
 "Working hard without falling, being disciplined,
knowing where I want to go, and taking the step to go
international have all been thrilling moments for me."
Throughout your experience as an actress, you
have been playing mostly villainous roles in telenovelas.
Does the process of becoming someone
else, especially someone who is the antagonist of
the story, has brought you more understanding
of yourself and compassion for others?
"It is a character!!! It has nothing to do with who I
am. When I look at my career, I can see a balance
between my characters. I have equally been leading
protagonist and antagonistic roles; the point is to
make each character different, and the fact that the
audience accepts you in both roles is a wonderful
gift. I love playing bad roles; it gives me many opportunities
to create the protagonists who I play:
strong and hard-working women of character. I
identify with those characteristics."
In the Mexican telenovela La Desalmada (Heartless
in the English language), you portray Julia
Torreblanca de Gallardo, the main antagonist.
How would you describe the angles of Julia that
resonated with you?experiences are available to us, and we can mix and match them to create something new, something wonderful, something soul-stirring. 
"She is a woman who fights to the end for what she
wants, obviously the wrong way, but for her, it is
the right one. She is a woman who is attractive and
combines it with her sensuality, and she knows how
to get where she wants and when she wants.
But all this will get out of control, so you better watch
the story (smiling)!"
What is your expectation for the audience to take
away from watching La Desalmada at large and,
more specifically, your character Julia?
«My expectation is for my character to connect with
the audience to have as much fun as I did when
I was becoming Julia. So, the audience can experience
what it is to live passionately in the skin of
a villain—people really enjoy seeing actors playing
bad guys.»
One of your other passions is to sing. How
would you describe your state of being when
the music and your voice flows from within
out?
«My state of mind singing: For me, music is life,
so it is another great art that I am thankful to be
able to fulfill. It is magic and another completely
different me, a different Marjorie. I love dancing,
singing, and being able to express myself
through music.simple, yet it's deeply engraved in who we are, 'All is Well. All is Loving You. All is Available to You.»
Do you collaborate and contribute to any humanitarian
cause that is close to your heart?
«For years, I have been helping many animals that need a home and being rescued from abuse.
I also collaborate with foundations that help women with cancer. I just arrived in Miami again to give away 500 mammograms. It is important
to support and help people in any way that we can. It fills me with joy to be part of this event
together with Masiel Moreira, with whom I will be working these two days, giving many women the opportunity to be calm or act on time.
I have collaborated with PETA for many years, and in our last campaign, I dressed as a killer whale to represent the pain of killer whale mothers who have been stripped of their babies since birth, asking the public not to be part of these shows to help us release thousands of captive dolphins and killer
whales.
Every year, my son and I manage to reach out to homes to give them the joy of having a special
night. While there, my son helps me distribute toys, and the truth is that we learn so much from them.
I can only say that even if you think that you only have a little to give, that can be a lot for some people.»
Have you ever experienced a
challenge while filming on set,
which eventually you turned
into self-empowerment?
«Many times in life, we understand
things through scripts;
challenges always exist when
we give too much of our feelings
and emotions to another
person, and sometimes even
ourselves»
What do you love the most
about yourself, and what do
you love the most about other
people?
«I love seeing life through the
eyes of a child, and having a
child emphasizes to me that every
second for a child is magic,
that life is better spent playing,
that it is not worth crying but
getting up and moving on.
Love who you are and how you
are, and if something bothers
you, work it out.»
God Bless you, and thanks for
reading this.
Armand Alvarez & Sanja Polovina
The Balfour Hotel Miami Beach